Application & Cleaning Facilities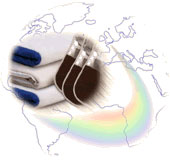 These applicator cloths consist of three distinct sections:
The leading section is long enough to allow itself to be pulled through the ironer.
The center section is the waxcloth itself, covered with a silicone sheet which prevents melted wax from marking the padding and/or being exhausted through the vacuum system.
The last section is of a heavy needlefelt, also covered with silicone, which spreads the wax evenly and polishes the chest.
A hem is sewn into the leading edge so that the applicator cloth can be hung up after use to prevent spontaneous combustion. Standard width is 1,60 m (5ft) and can be used by one operator.
This cleaning glove, entirely made out of heavy needlefelt, covers the entire arm of the operator so that cleaning of the hot surfaces can be done with complete safety. Use of these gloves with CLEANPRESS keeps your press heads and the front lip of your ironer clean and well polished,
improving the quality of your work and increasing production.
Comfortable use thanks to its suppleness.
Apllicator cloths
Directions for use:
Put the applicator cloth on the feeding part of the ironer with the silicone sheet on top.
Put the leading edge into the ironer.
Stop the ironer, lift the silicone sheet up and applicate a small amount of paste on the centre section.
Close the silicone sheet and drive the ironer at its lowest speed.
Repeat the operation for the other side of the ironer.
A new application of the paste is generally not necessary during the day.
The applicator cloth retains enough wax for several operations.
Notes
When using CLEANCOAT/EUROGLIDE with the applicator cloth, it will remain supple, so handling is easy.
Standard width is 1,60 m (5ft) so that one person can easily wax the ironer in two passes.
With a new applicator cloth, a little bit more paste has to be applied till it becomes well impregnated.
Safety gloves

Directions for use:
Put a small amount of CLEANPRESS on the abrasive side of the glove.
Scrub the dirty machine surfaces.
Wipe off the excess product and polish the surface with the other (polishing) side of the glove.
Notes:
Never clean the front lip of an ironer during turning movements!
Wax with CLEANCOAT/EUROGLIDE after cleaning the surfaces.